A bit of an over to you guys post today. I am curious as to what you all do at Easter?? Like do you have a family get together, decorate your house etc.
We don't do a lot around here. Years ago we used to go away but the weather is always shockingly bad at Easter, then when I was working I used to work all the public holidays. Then we had kids and I can't really remember what we have done!! Last year we were interstate and we will be again next year, This year the HOTH is taking the kids to a car thing on Good Friday (Fryday its called!! I have no idea why kindy kids teacher thinks we are redneck revheads!!) Saturday we are going to go to an egg hunt in our town and then I am not sure the other two days. I always like Easter as it means we have the HOTH home for four whole days!!
Apparently the Easter bunny will be making an appearance on Sunday and leaving eggs for the kids although I have tried this before and had to lock the dogs inside and rush around hiding things!! I can always put them out the front where the dogs can't reach them!!
The Easter bunny generally leaves an egg with a toy or egg cup, you know the packs I am talking about!! Some winter pjs and a couple of other things. This year he sourced some cheap Sharkies (Cronulla Sharks) singlets which turns out are summer pjs, a dvd each, an egg with a mug and an egg with an egg cup for the baby!! Now it looks like I will have to buy some over priced eggs for an egg hunt as well!!
The first Easter we had with Kindy Kid we had just brought him home from hospital and the HOTH spent Good Friday re roofing part of our house!! Then on the Saturday we had to make an emergency trip to Bunnings to buy a tap or something as the washing machine had crapped itself!! We ended up needing a whole new washing machine!!
I still remember the Easter about 10 years ago when we went camping with friends and it rained the entire time we were away!! Good times though!!
So over to you guys, I really would like to know what you guys do!!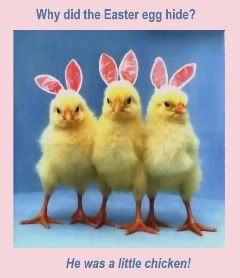 Don't forget to pop over on Friday for #tik!!
Linking up
Essentially Jess
for #ibot!!