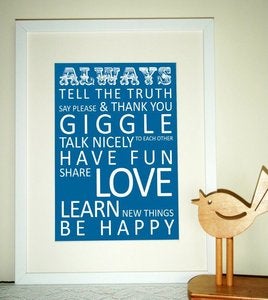 Week 3 is all about a mission statement. I did not have to think too hard about this one as I know what mine is. I fell in love with this picture months ago and knew it was exactly what I wanted for our new house. I have brought it ready to be the first thing I put in the house. There is a couple of different ones that I will buy when I find/remember where I saw them. One is just for boys and the other is one for mums. This picture is basically everything I wish for my boys and its also a great reminder for adults too. Imagine living in a world where everyone followed what the picture says?
As far as a "mission statement" I feel my kids are too little at the moment to fully understand but it is something I would look at in the future.
ps the pictue came from
here
!!